In order to produce Foamcem light weight cellular concrete it's necessary the using of Foamcem foaming agent produced in our factory with registered trademark.
Foamcem foaming agent is natural protein base and don't has any influence on the
foamed cement
characteristics.
In fact, cellular concrete and
foamed concrete
produced with Foamcem Foaming agent, increases the cement compressive strength during the time like the normal concrete.
Furthermore, Foamcem foaming agent is perfectly eco-compatible as it takes part to the class of nopolluting natural substances.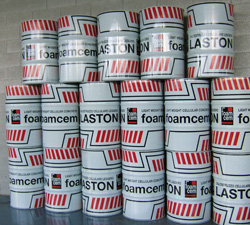 Packaging: metal drums 230 kg net weight.
Consumption: kg 1,5-2 cubic meter of cellular concrete depending on the density produced.
CHEMICAL AND PHISICAL PROPERTIES
-Specific weight: 1,12 +/- 0,02 kg/lt
-Viscosity at 20°C:17 +/- 5 cst
-Solubility in water:total
-pH (in water solutions) 7 +/- 0,5
-Freezing temperature: -15°C
-Not flammable
-Don't give off noxious substances
-It's not aggressive